Location Details: 
Locust Point neighborhood in Baltimore, MD
Buildings: 
Class A office property consisting of four adjoining buildings
Total Size: 
+/- 95,000 rentable Sq. Ft.
1414 Key Highway is a Class A office property located in the dynamic Locust Point submarket of Baltimore. The property consists of four adjoining buildings that have been completely renovated from their industrial origins of +/- 95,000 rentable Square Feet. The property was built in the 1930's, and was historically home to King Syrup.
The original redevelopment into an office building was started in 2002 by the Azola Companies, a local developer who specializes in historical rehabilitations and adaptive re-use projects. The Azola team retrofit the Pitt and Mangles buildings into loft office and retail space, connecting the buildings with an open atrium to create a unique industrial feel.
Goodier Properties purchased the building in 2014, and continued redevelopment by bringing Planit Advertising into +/- 26,000 SF of underutilized warehouse space. GP relocated seven existing tenants to accommodate Planit and renovated much of the interior and exterior of the buildings during the process, delivering a final product that is unique in style and an institution in the growing submarket.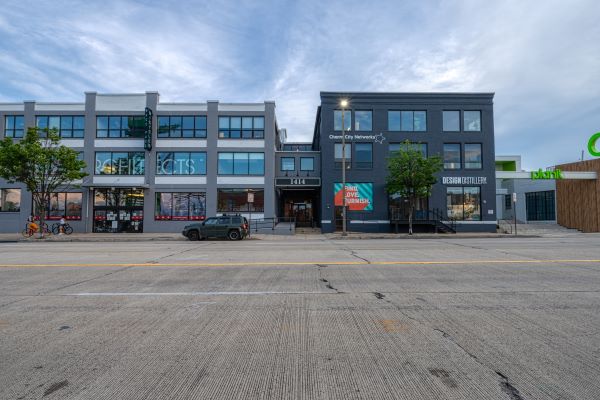 For any Property Management inquiries please contact our onsite Property Manager Peggy Booth
For any leasing inquiries please contact Jon Selfridge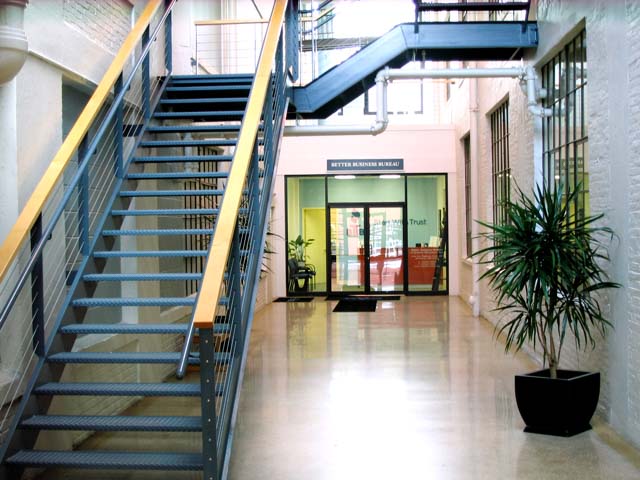 The property is positioned well to capture tenants seeking creative office space, direct access to 95, water views, a city presence, and close proximity to walkable amenities.
1414 Key Highway is nearly fully leased by tenants with wide varieties of trades including architecture, IT, consulting, legal services, medical services, retail, engineering, and energy consulting.
The Third Floor is set up in a quasi-co-working environment where we provide an on-site office manager, and common conference room, breakroom, and kitchen, but where Tenants have their own exclusive space.